How to Make Life Livable? 1/3
TALKS: THE HYMN Sergiy Petlyuk (Artist, UA) INSIDE-OUT Agnieszka Wolodzko (Artist, PL) EXHIBITION: THE HYMN Sergiy Petlyuk (Artist, UA) TEXT: EVERYDAY NATIONALISM Yevheniia Oliinyk (Journalist, UA)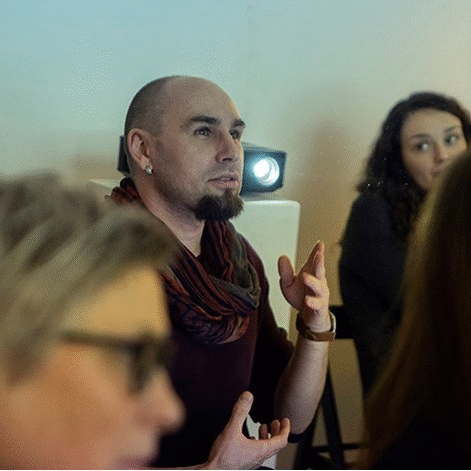 Time & Location
07. feb. 2018 19.00 – 25. feb. 2018 23.30
rum46, Studsgade 46, 8000 Aarhus C, Denmark
About The Event
The HYMN
by Sergiy Petlyuk [UA]
The artist will give an artist talk about his practice and present his video installation "The Hymn", which he has been working on during his residency in Aarhus. It includes more than 180 national hymns of states from all over the world. The texts are combined into one long text. In this way a new piece is being created – where completely antagonistic contents can meet and form a compositional unity. The new "united" text can be understood only in English – a language that can embody globalist tendencies, "blur" borders and homogenize differences.
Sergiy Petlyuk is a visual and media artist from Lviv [UA]. Sergiy Petlyuk works with social and political critical discourses, explores the effects of social stereotypes, the impact of mass media on human values and the influence of social and political manipulations on the formation of identity.
He has participated in numerous exhibitions in Ukraine, Poland, USA and Great Britain. In 2009 and 2011 Sergiy Petlyuk became a winner of the Gaude Polonia scholarship.
INSIDE→OUTSIDE
by Agnieszka Wolodzko [PL]
Agnieszka Wolodzko will follow with a presentation of her project realized during an artist's residency at Sigrid's Stue in Gellerup, Aarhus Denmark in 2016. She was visiting some of the migrants' homes asking people to allow her to take photos of their carpets. The designs in the carpets were used as a starting point for an urban design based on the cultural æsthetics of some of the people living in Gellerup.
Agnieszka Wolodzko from Gdansk in Poland is an artist, curator and researcher. She realizes international projects in the area of intercultural dialogue and issues of public space. She works with many medias: actions, curatorial projects, photography, installations, sound works, and workshops for various social groups. She currently co-curates the project Room for Improved Futures in rum46 in Aarhus, and is a member of the international Think Tank Transbaltic.
Moreover we will present the text "EVERYDAY NATIONALISM" which is about how the far-right
movement may define the future of Europe – and how it's different and same in the West and the East
by Yevheniia Oliinyk - published by rum46 in the GROUND WORK booklet series.
In the last few years the nationalist movement has escalated in Western and Eastern Europe. The West is stunned by the refugee crisis, while the East deals with its own complicated history though denial of everything it used to believe in. European values are now a myth with no solid meaning. Brexit and the election of the president Trump made a lot of us question political decisions made decades ago. Yet does the far-right movement propose any solutions? While in the West it responses to the global world challenges, in Ukraine it reflects on how society struggles with its inner conflicts and trauma multiplied by war.
Yevheniia Oliinyk is a journalist, cultural critic and illustrator. She lives and works in Kyiv [UA]. Yevheniia Oliinyk studied journalism in Kyiv Institute of Journalism, later gained a Masters degree in Cultural studies in Kyiv-Mohyla Academy. Her Master's Thesis covered the propagandist, political and cultural aspects of visual representation of the war in the East of Ukraine. She worked as cultural reporter for Kyiv Radio Liberty Bureau and since 2016 is a co-editor of KORYDOR, an online magazine about contemporary culture. Her professional interests are trauma and inclusion, human rights, historical memory, visual culture, and participatory practices in art.
The video installation The HYMN is displayed in rum46 during opening hours wednes, thursday, and friday from 1-5pm until the 25th of february 2018. The pictures for this event was provided by Sergiy Petlyuk.